Junior web developer (m/f/d) WordPress
#frame_zone { background-color: #ffffff; }.scheme-display-view { margin: 0 auto; padding: 10px; } body { margin:0px; font-family: sans-serif, Arial, Verdana, "Trebuchet MS"; } .scheme-display .content{font-size:16px;padding:14px 24px;background-color:#fff;line-height:1.6}.scheme-display .scheme-margin{margin-top:10px}.scheme-display .scheme-title{margin-top:0;padding-top:0}.scheme-border{border:1px solid rgba(220,223,226,.8);background-color:#fff}.scheme-display .video{height:400px;width:100%;border:0}.scheme-display h2{margin:0 0 18px;padding:0}.scheme-display .content-images{position:relative;height:350px;overflow:hidden;display:block;box-sizing:border-box;padding:0}.scheme-display .content-video{border:none;padding:0}.scheme-display .scheme-title h2{margin:0;font-size:28px}@media (max-width:768px){.scheme-display .content-images{height:250px}}@media (max-width:650px){.scheme-display .content-images{height:250px}}@media (max-width:450px){.scheme-display .content-images{height:150px}}.scheme-display .slide-images{width:100%;position:absolute;right:0}.scheme-display .slide-images:first-child{display:block}.scheme-display .slide-images:nth-child(2),.scheme-display .slide-images:nth-child(3){display:none}.scheme-display-view{max-width:834px}.scheme-display-view h1,.scheme-display-view h2{font-weight:bolder}#scheme_detail_data{width:100%;display:table;margin-bottom:10px}ul.scheme-additional-data{margin-bottom:0;min-width:30%}.scheme-additional-data{float:left;margin:0;padding:0;list-style:none}.scheme-additional-data li{list-style:none;margin:4px 15px 0 -3px!important;line-height:120%}.scheme-additional-data li.left{float:left}i.fa-fw{margin-right:5px;margin-left:5px}.scheme-display .content .user-image{width:100px;height:100px;border-radius:50%;float:left;line-height:100px;background:no-repeat 50%;background-size:cover}.scheme-display .content .user-data{height:100px;margin-left:80px}.scheme-display .content .user-data li{list-style:none} .scheme-display .content-images { height: auto; } .scheme-display .slide-images:first-child { position: inherit; }
Junior web developer (m/f/d) WordPress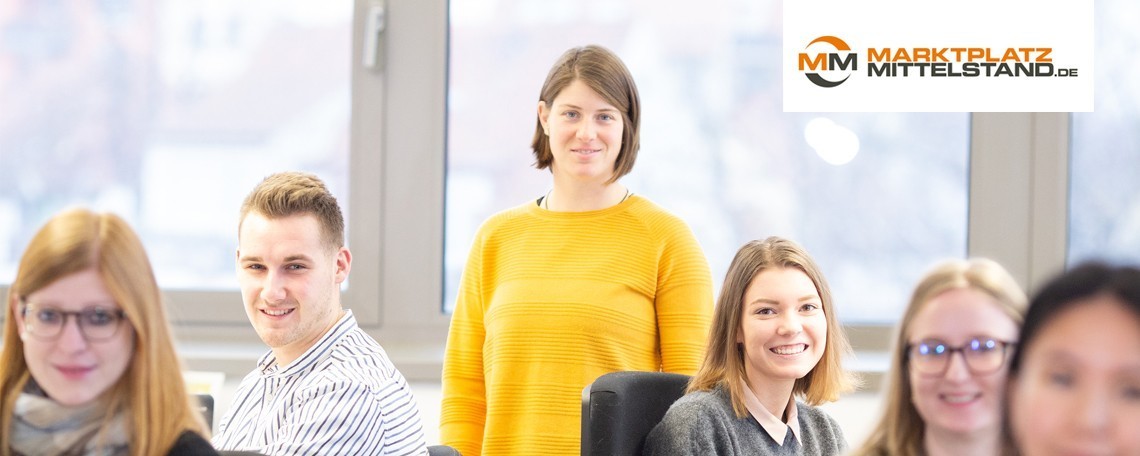 Marktplatz Mittelstand is a portal for small and medium-sized companies. With the help of our products and software solutions, the services and products of our customers become easier or even discoverable on the Internet. On the online marketing platform www.marktplatz-mittelstand.de the companies are given the opportunity to present their products and services comprehensively and search engine optimised in order to attract new customers. By expanding our portfolio to include online products and our international Pages24 platforms, we have successfully positioned ourselves in the market and now serve over 150,000 customers worldwide.

Become part of our team in an innovative and growing company in Nuremberg as Junior web developer (m/f/d) with focus on WordPress (part time).
Your tasks:
Planning and implementation of complex web applications
Development of WordPress plugins and themes
Working with WordPress-Multinetworks
Creation of web applications (frontend and backend)
Maintenance and support of existing web projects
Further development and support of own applications
Close cooperation with marketing and project management
Your profile:
Very good knowledge of programming languages (PHP, HTML5, CSS3, JavaScript)
Deep knowledge of frameworks (JavaScript, jQuery)
Good knowledge in use of databases (MySQL, MariaDB)
Experience with the development of WordPress plugins and themes
Experience in image editing
Secure handling of version control repository (Bitbucket, Git repository)
Strong sense of technical feasibility
Independent identification of requirements and their implementation
Team spirit, high quality awareness and an efficient working method
Very good german and english language skills
We offer:
A responsible and varied job in an innovative company
A proven and well-functioning business model
A good working atmosphere
Space for initiative and creativeness
A modern workplace in an attractive location, very good public access, alternative: company parking
Varied and inexpensive company catering as well as water and fruit at your disposal
Have we aroused your interest?
Then we look forward to receiving your complete and meaningful application including references via our online form. If you have any questions, please contact us.

Reference number: 1540
Personalreferentin
Claudia Hoheisel
+49 911 3409-264